R&D
Research and Development
The research and development wing at our Kagoshima plant handles the development of dies, production and manufacturing technology, new products, forging prototypes, etc.
---
Material for Forming Simulation
We develop new materials based on a plasticity processing materials that was developed at The Technical University of Denmark and by incorporating our unique know-how.
---
Development and Manufacturing of Heading Tools
We develop high-added-value dies, creating new products in collaboration with various governmental agencies and universities as well.
---
Development of Production Technology
We develop original techniques regarding tools, jigs, machinery, and processing in die manufacturing.
---
Inteligent Fluid Polishing
Inteligent Fluid Polishing (IFP) uses a completely different polishing method from conventional practices, enabling efficient polishing of the internal surfaces of dies with narrow diameters, long dies, and irregular dies, previously difficult. IFP allows efficient removal of the solidified layer created by electrical discharge processing, which could not easily be removed with conventional processing; with the cooperation of MITTE, this newly developed processing method significantly reduces problems in die polishing.
Machining Exsample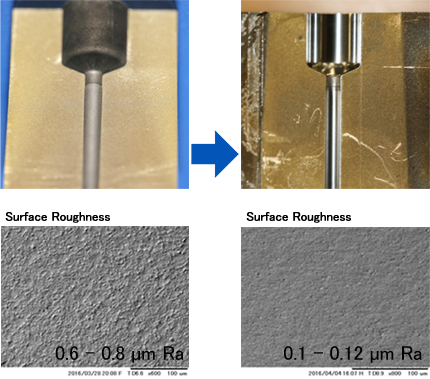 Material: Cemented Carbide
Dimensions: Φ8 (upper inside diameter) / Φ2 (lower inside diameter)
State: After Die-sinking Electrical Discharge Machining
Machining Time: 15 minites

Results: Throughout the top, the bearing and the pinhole area, the affected layer has been completely removed and stable polishing is possible.
---