Divilo™
Carbide Segmented Dies
Product Line-Up

Hex Segmented Punch Inserts, Hex Segmented Die Inserts, Sq Segmented Die Inserts, 5DD/3DD Segmented Inserts and other segmented Inserts, Back Plates for Hex Segmented Punch

Application Examples

Hex Bolts, Hex Flange Bolts, Hex Nuts, Sq Bolts, Carriage Bolts, 12-Point Bolts, and Deformed Fasteners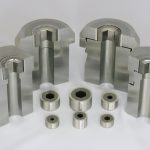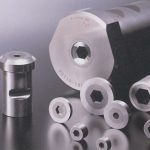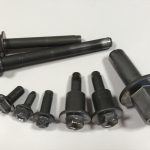 Divilo™ is a brand of carbide segmented dies we developed in-house with the goal of lengthening the service life of dies. Conventional single-piece dies tend to break because of stress concentrated on the corners. Divilo™ avoids this stress by segmenting the fragile sections at the design stage. When comparedwith conventional dies, the life span of Divilo™ is much longer.
---
Features
Precision:

Precision is one of the most important factors in the longevity of dies. At JHW, our Segmented Dies are manufactured one by one with high precision and processed so accurately that it is difficult to even discern the joints. This fabrication technology demonstrates the superiority of our DI product line. We are confident that using our products will enable you to fully realize the advantages of segmented dies.

Added High Value:

We have been improving and striving to increase our level of technology ever since we commenced manufacturing and sales in 1982, and we have succeeded in further increasing the lifespans of our products compared to when we first started selling them. Our unique special treatment methods lead to high functionality through. Divilo™ is a long-lasting, high-precision, high-added-value forging die that are imbued with our technology and know-how.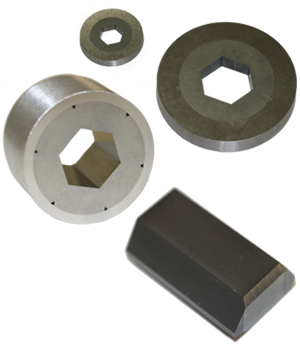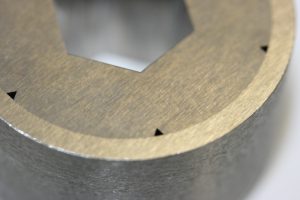 In-house control of all aspects of manufacturing, from procuring materials to finishing products
Comprehensive technical support to provide assurance even for first-time customers
Extensive lineup of standard products and custom products
Higher quality than competitors using our unique technologies
Almost no variance in quality and dimensions because of high precision processing according to strict standards