Company Profile
General Information
Company name
Japan Hardware Co., Ltd.
Foundation
Dec. 21 1961
Establishment
Mar. 21 1964
Capital
53,000,000yen
President
Keiichiro Ogawa
Number of employees
107 (in 2017)
Head office and plant
41-21, Yutaka, 2-chome, Minami-ku, Nagoya, Aichi, 457-0863, Japan
Tel:+81-52-698-3666
Fax:+81-52-698-3660

Kagoshima plant
5875 Nagayoshi, Osaki-cho, Soo-gun, Kagoshima, 899-7306, Japan
Tel:+81-99-476-1555
Fax:+81-99-476-0817

Business items

Segmented dies
Cold forging dies and related parts
Simulation device for plastic deformation and model materials
Prototype development

Overseas sales
About 20 countries:
US, Italy, France, Germany, Spain, Portugal, Australia, Taiwan, Korea, Thailand, Turkey, Israel, India, Malaysia, etc.
Domestic sales
Over 400 companies:
Automobiles
Motorcycles
Construction machinery
Precision machinery
Architecture
What We Do
JHW is a manufacturer of dies, which are used to manufacture metal forged products, providing fundamental support for Japan's manufacturing industry. Our stable, long-life dies contribute widely not just to the automotive industry, but to the mechanical and construction industries and more. As in our company principles, the unique JHW approach of taking on the new is reflected in our products and services.
Company principle – Keep challenging for a glorious future.
JHW creates a glorious future by taking on new challenges.
JHW provides our customers with better products and services
by continuous improvement of development, production, and sales.
JHW believes that as our employees come together to enhance one another, each is a part of a strong rope drawing us toward a bright future.
"Happiness Hexagon"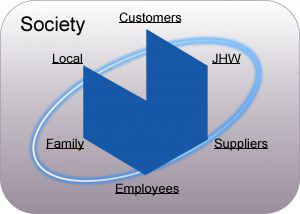 Customers, Our company, Cooperative companies, Employees, Family, Local community express our values. Known as a honeycomb structure, it is said that a hexagon is the most beautiful structure in nature. Our symbol indicates our six values. If even one value is missing, it cannot exist. We aim to be a company which contributes to society by maximizing six kinds of happiness through our products, aware of the role we play in supporting the manufacturing industry in Japan.
---
A Message from the President
I would like to create a bright future for our children through manufacturing and the development of human resources.
JHW has manufactured metal products for over half a century since it was founded in 1961. At present, we primarily manufacture forging die in our headquarters factory in Nagoya and our factory in Kagoshima, and sell to over 400 business customers domestically and internationally.
It is impossible to move forward or take flight without having your feet firmly on the ground. The die we manufacture is the very foundation of the manufacturing industry, a responsibility we take very seriously. We live in an era where the world is changing tremendously with the development of IT, the evolution of AI, the use of big data, and IoT (the Internet of Things). I predict the world of manufacturing will change to a great extent with such technologies and the paradigm shift in automation, unmanned operation, and the market. However, I believe there will be an even higher demand for the manufacturing of innovative products with added value and a sense of value in the near future, rather than disappear.
If we liken this situation to the theory of evolution, which states that those who best adapt to the environment will survive, we must predict the future and make the appropriate changes in the right direction. JHW will take various challenges to reveal what the future holds for us. Since our foundation until today, we have been able to run our operation through the support of our customers, several people, and local communities. We hope to continue to contribute to society as a company that supports the Japanese manufacturing pride, as well as create a bright future for our children through the vision we aim to achieve with our products.
We will strive to realize our mission with the dedication of our employees. Thank you for your continued support.
Japan Hardware Co., Ltd.
Keiichiro Ogawa, President